See Litters!
"Max"
SERAKRAUT MAXWELL'S SILVER HAMMER - NAVHDA NA PR
(CH West Star Blue Ribbon Coronet - HAVHDA NA PR x Serakraut's Wenonah)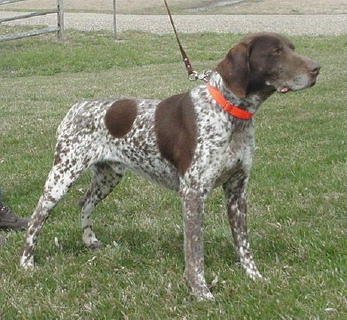 BLOOMS BOOMIN BLITZKREIG VON SERAK
(CH Serakraut's Leading Man X CH Serakraut's Page One)
Quality bred German Shorthaired Pointers. Purebred Puppies. Champion bloodlines. Health guaranteed.
Over the years of quality German Shorthaired Pointer breeding, we have seen many changes, trends and vogues come and go. However, our commitment to those who appreciate the highest standards in pedigree and temperament have remained uncompromised.

At eulenhof, we have built our German Shorthaired Pointer breeding program on several distinct areas of this fine breed.

First, our dogs have evolved from select breeding of the finest upland bird dogs to have been produced in the United States. Amoung them are FCH Dixieland's rusty, FCH Checkmate's Dandy Duede, FCH Uodibar's Boss Man and FCH Moesgaard's Ace, just to name a few. CH Serakraut's Happy Go Lucky, an influential dog in our pedigrees, was known for being equal to the best field dogs of his era, as well as a conformationally superior specimen of the breed and a prepotent sire - constistently producting his excellent temperament and strong natural hunting talent.
We combine these top American bloodlines by breeding with dogs that are some of the finest bench competitive dogs world wide.

This gives us a well balanced dog that will perform excellently in the field, behave well in a family setting and exhibit all the physical characteristics that make German Shorthaired Pointers a fine choice for your next dog.
Last updated9-21-23